SCIENCE AND TECHNOLOGY FOR SOCIETY TOWARDS GARBAGE FARMERS IN RT09 AND RT010 / RW03 KAMPUNG BALAKANG KAMAL KALIDERES WEST JAKARTA
Putri Suryandari

Budi Luhur University

Anggraeni Dyah

Budi Luhur University

Sri Kurniasih

Budi Luhur University
Keywords:
assistance, fertilizer house, garbage bank, recycling clinic, waste farmer village, waste recycling
Abstract
RW03 Kampung Belakang, Kamal Village is a RW that BPS (Bureau of Statistics) in 2016 is declared a slum area of ​​DKI Jakarta. While Rt 09 and Rt 10 is RT which became the focus of slums in RW03. People here work as farm laborers, laundry workers and slipper factory workers in freelance.Lack of public awareness at RT.009 and RT.010 / RW.03 Kamal Village, Kalideres Sub-district West Jakarta to live in clean and healthy environment becomes the main problem of the community. Waste contained in vacant land, drainage and roadside due to unavailability of public and private waste disposal facilities. Often leads to flooding and the incidence of unpleasant odors. Rubbish is actually a potential partner of Community. To raise the potential of garbage in Kampung Belakang, RT.009 and RT.010 / RW.03 Kamal Village, Kalideres Sub-district, West Jakarta, become a source of income and livelihood of the people there. So do change the mindset and the way people view the waste. Environmentally friendly education and waste are urgently needed.The output are 1. Recycling Clinic, 2. Fertilizer Formation and 3. Formation of Garbage Bank, through the method of handling education of handicrafts from plastic waste, making fertilizer and storing garbage in Garbage Bank. The accompaniment is carried out together with the NGOs Nyiur Budi Luhur and the Kamal Community Self-Reliance Society.Counseling activities involving volunteers from the community are appropriate, as volunteers are also part of the community. Finally, Kampung Petani Sampah in RW03 was successfully inaugurated by Kali Deres Sub-district, as well as holding a community recycling bazaar.
Downloads
Download data is not yet available.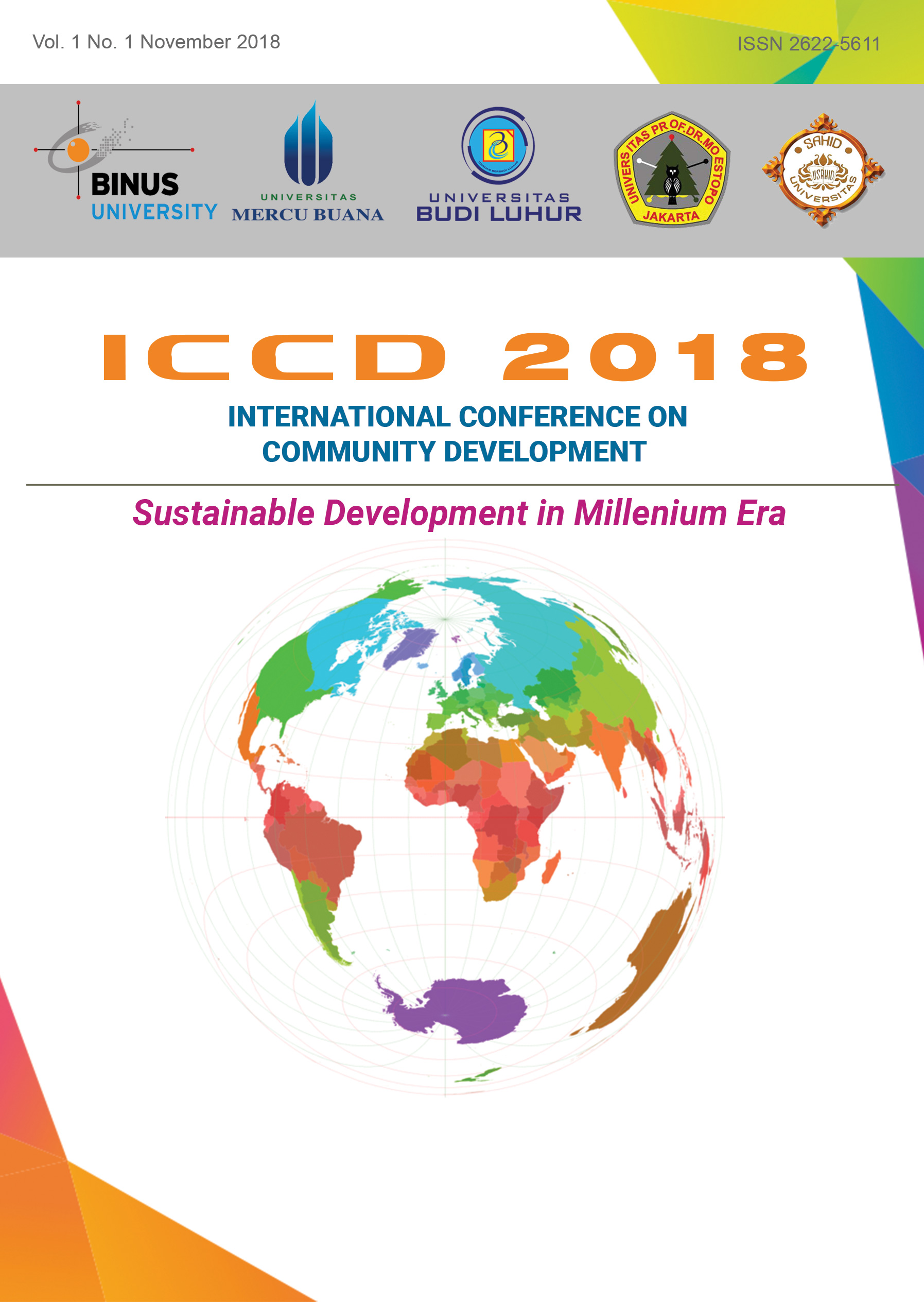 How to Cite
Suryandari, P., Dyah, A., & Kurniasih, S. (2018). SCIENCE AND TECHNOLOGY FOR SOCIETY TOWARDS GARBAGE FARMERS IN RT09 AND RT010 / RW03 KAMPUNG BALAKANG KAMAL KALIDERES WEST JAKARTA. ICCD, 1(1), 660-666. https://doi.org/10.33068/iccd.Vol1.Iss1.98