THE ROLE OF COMMUNITY-BASED WATER MANAGEMENT AGENCY AND VILLAGE REGULATION IN ACHIEVING SUSTAINABLE CLEAN WATER PROGRAM IN CIBADAK VILLAGE – WEST JAVA
Diana Fawzia

National University

Truly Wangsalegawa

National University

Nursatyo Nursatyo

National University
Keywords:
clean water program, community-based management agency, village regulation
Abstract
Cibadak Village in District of Bogor, West Java has land contour which is mountainous and dried has caused minimum access to water resources. During the dry season, the water supply is minimum which affected in their people's unhealthy lifestyle. There was a Government's Program called WSLIC-2 (Water and Sanitation for Low Income Communities) which use public water tap model and it was free of charge. But it's not sustainable which is some of water pipes were damaged and unfixable. Based on that condition, Center for Political Studies and Community Development/ Pusat Pengkajian Politik dan Pengembangan Masyarakat (P4M) Nasional University initiated a community empowerment program called "Community-based Clean Water Facility Development Program in Cibadak Village". Based on our Participatory Action Research (PAR), there are a few factors which contribute towards the sustainability of the clean water program, i.e: Community participation and contribution, Paid water meter system, Community-based Water Management Agency/Badan Pengelola Air Bersih (BPAB), and Village Regulation. System approach through the development of BPAB and Village Regulation will have a significant impact on the sustainability of the program.
Downloads
Download data is not yet available.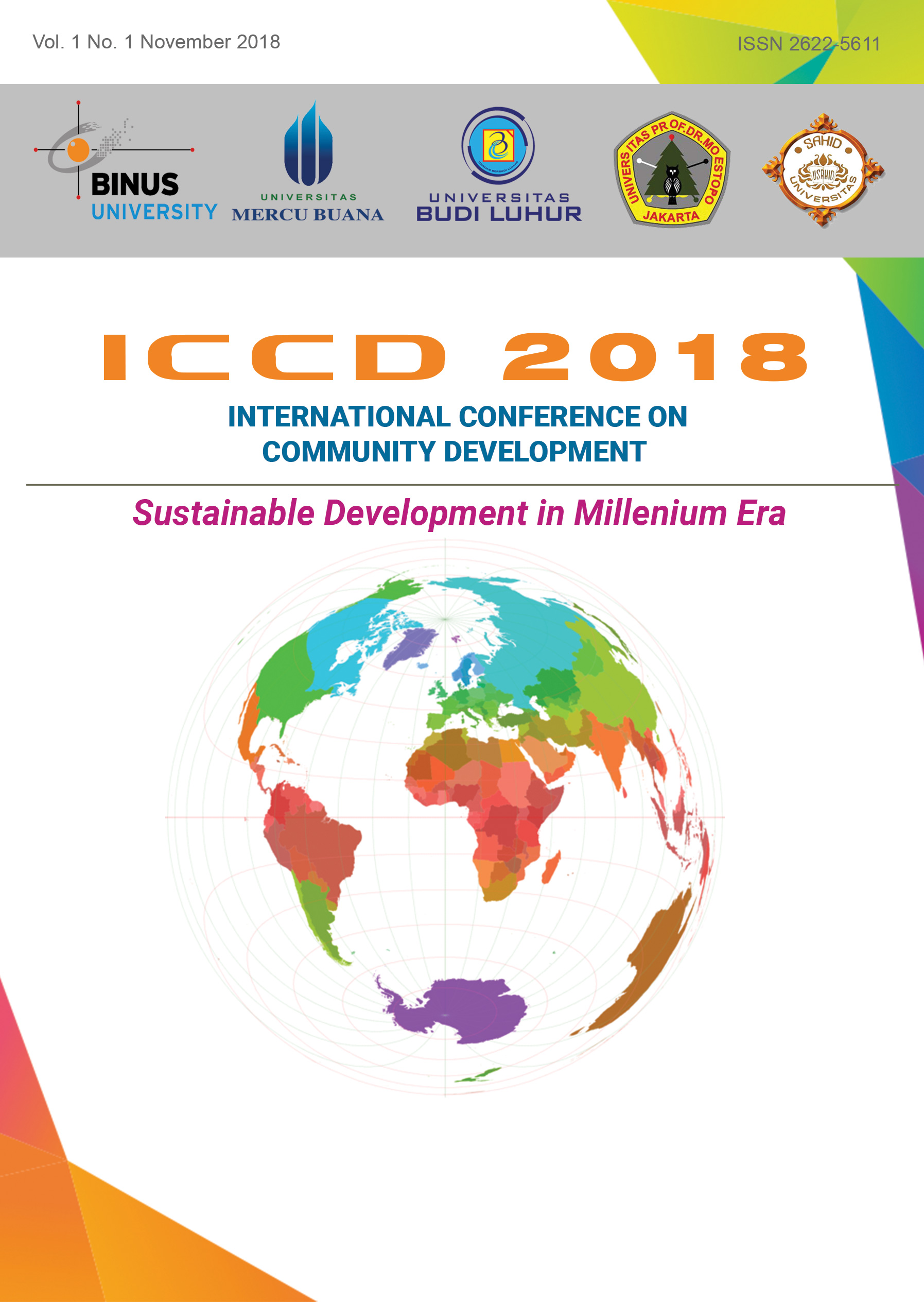 How to Cite
Fawzia, D., Wangsalegawa, T., & Nursatyo, N. (2018). THE ROLE OF COMMUNITY-BASED WATER MANAGEMENT AGENCY AND VILLAGE REGULATION IN ACHIEVING SUSTAINABLE CLEAN WATER PROGRAM IN CIBADAK VILLAGE – WEST JAVA. ICCD, 1(1), 634-641. https://doi.org/10.33068/iccd.Vol1.Iss1.93