ERGONOMIC WORK ENVIRONMENTAL MANAGEMENT FOR INFORMAL SECTOR WORKERS (CRAFTSMEN EMPING AND CRIPPERS) IN CILEGON CITY
Resa Trauna Suhada

Mercu Buana University

Antonius Manurung

Mercu Buana University

Muhammad Kholil

Mercu Buana University

Yuliani Mardikawati

Mercu Buana University
Keywords:
informal sector worker, RSI, lectures, informal sector worker, RSI, lectures
Abstract
Informal Sector Worker (Craftsman Emping And Crippers) In Cilegon City has many power. This deficiency can be seen in the condition of the workplace is very unhealthy and at risk for work accidents. Can be seen from the position of the workers who bend over, without using gloves when peeling, and the furnace furnace is not ergonomic for the workers when using it. According Nurmianto (2005), work fatigue will reduce performance and increase the level of work errors. Increased work errors will provide opportunities for workplace accidents in the industry. Static muscle loading (static muscular loading) if maintained for long periods will result in RSI (Repetition StrainInjuries), ie muscle, bone, tendon, and other pain caused by repetitive types of work. Therefore we provide solutions to conduct lectures on craftsman chips and chips in the city of Cilegon. On May 24, 2016 housed Mr. Rohim who is one of the successful craftsmen chips in the city of Cilegon.
Downloads
Download data is not yet available.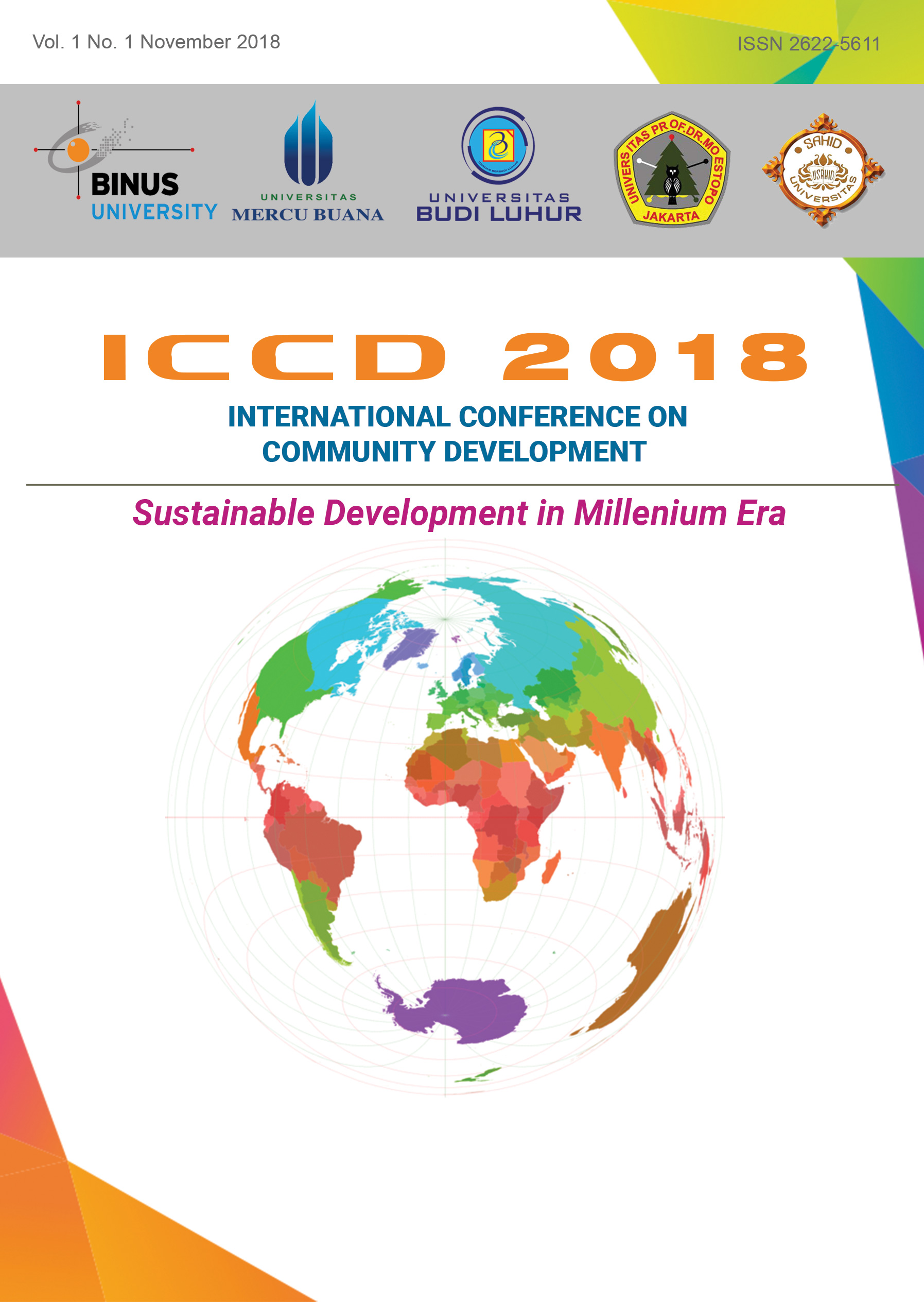 How to Cite
Suhada, R. T., Manurung, A., Kholil, M., & Mardikawati, Y. (2018). ERGONOMIC WORK ENVIRONMENTAL MANAGEMENT FOR INFORMAL SECTOR WORKERS (CRAFTSMEN EMPING AND CRIPPERS) IN CILEGON CITY. ICCD, 1(1), 628-633. https://doi.org/10.33068/iccd.Vol1.Iss1.92