SOCIALIZATION AND TRAINING ACCESS INFORMATION ASEAN COMMUNITY THROUGH NEW MEDIA (INTERNET) BY THE STUDENTS AT SKH. BHAKTI LUHUR CIPUTAT
Denada Faraswacyen L. Gaol

Budi Luhur University

Samsinar Samsinar

Budi Luhur University
Keywords:
ASEAN, socialization, students
Abstract
Indonesia as the largest country in ASEAN with more than 240 million population in 500 cities and 17 thousand islands, needs various efforts in conducting the 2015 ASEAN Community socialization. Effective socialization cannot only rely on conventional methods as previously carried out by agencies related to socialization through seminars to local governments, universities, schools, and other public organizations, as well as the installation of banners and billboards in public places. To support socialization to be more effective and efficient, it can be helped by using mass media, especially online media. Online media is chosen related to the development of ICT and public connectivity, which generally can access news via the internet or gadgets that are owned. The lag behind the public information about the implementation of the 2015 ASEAN Community in December 2015 cannot be separated from geographical, demographic, and information dissemination that is less equitable from the relevant agencies. This phenomenon is an obstacle in the readiness to implement the ASEAN Community. While the readiness of the government and the public is expected to be able to compete with other ASEAN member countries regarding the era of competition that will be implemented. PKM activities with the theme "Socialization and Training of Access to Information on ASEAN Community through New Media by New Students in Bhakti Luhur Ciputat Special School" in June 2016 were intended to increase their knowledge and insight. This is because many of them do not know the information related to the ASEAN program or agenda, especially those related to free competition by ASEAN Community which has begun this year. Students who have limitations (physical or mental) also have the right to get information related to ASEAN Community so that they are more motivated to equip themselves with knowledge and skills to be independent and compete in the upcoming ASEAN Community era.
Downloads
Download data is not yet available.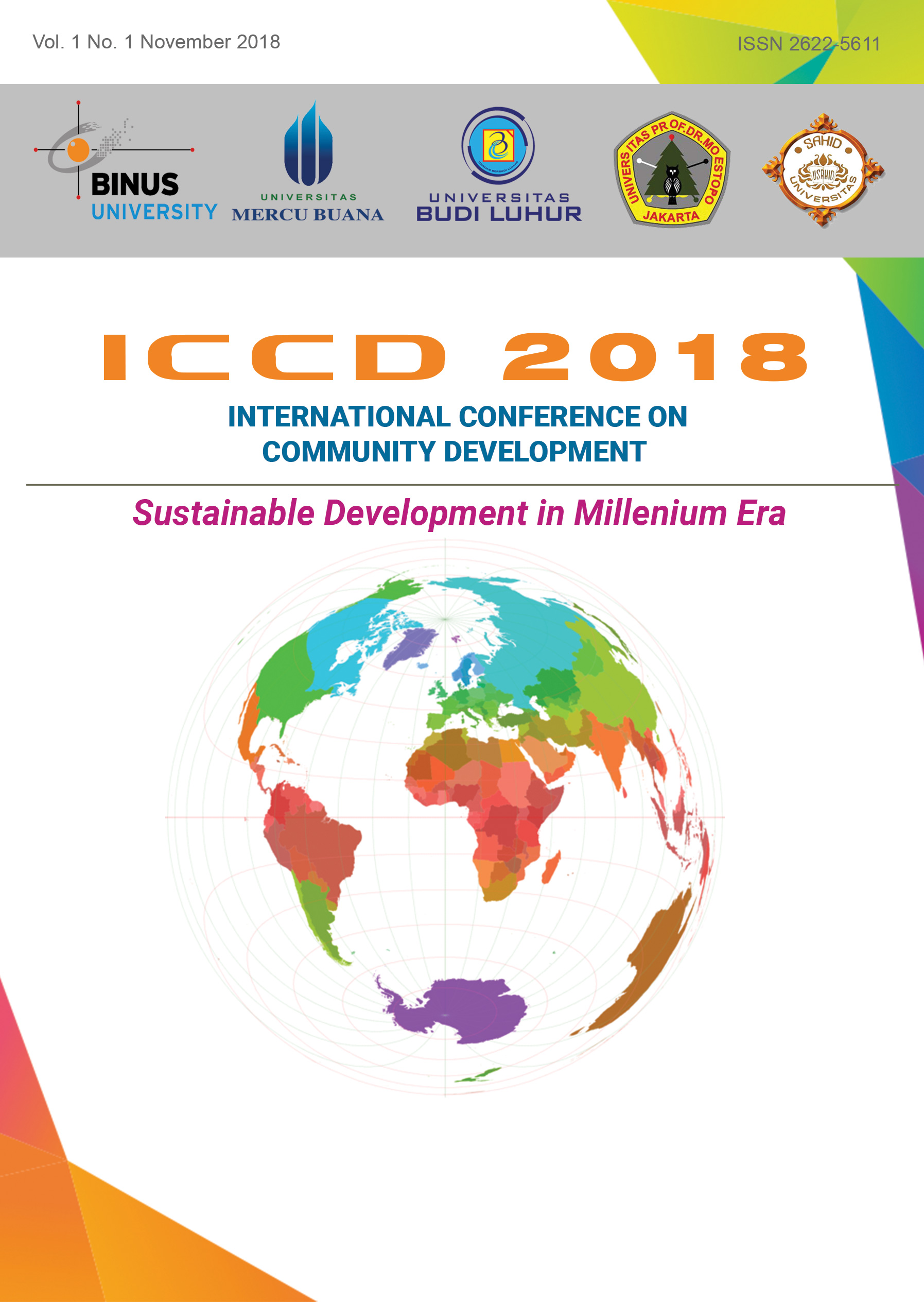 How to Cite
L. Gaol, D. F., & Samsinar, S. (2018). SOCIALIZATION AND TRAINING ACCESS INFORMATION ASEAN COMMUNITY THROUGH NEW MEDIA (INTERNET) BY THE STUDENTS AT SKH. BHAKTI LUHUR CIPUTAT. ICCD, 1(1), 48-55. https://doi.org/10.33068/iccd.v1i1.9