DEVELOPMENT OF STREET VENDOR BUSINESS THROUGH MARKETING COMMUNICATION CAPABILITY IMPROVEMENT IN MENTENG VILLAGE, SOUTH JAKARTA
Theodore Titi Widaningsih

Sahid University

Daesy Ekayanti

Sahid University

Nandang Mulyasantosa

Sahid University
Keywords:
business development, capabilities, marketing communications, street vendors
Abstract
Street vendors make a major contribution to economic activity and public welfare, especially to the weak economic group. Businesses carried out by street vendors are independent and involve the needs of many people. Street vendors as informal sectors have great potential to improve the economy, especially the weak economic community. The potential business of the street vendor at RW 14, RT 139 Menteng Dalam Village, South Jakarta must be developed because all this time they sell only to survive without any business development efforts. The business development can be done through marketing communication skills improvement by providing training. Improved marketing communication skills are carried out so that street vendors can make distinctive products, which are different from other products, always maintain cleanliness and tidiness of the place of business. In determining the selling price not only considering the raw materials that are used but also the costs of labor, electricity and other costs. Conduct simple promotions such as giving a name to the stall, making leaflets, and serving buyers in a friendly and polite manner. Make comparisons with other similar products to make and determine the product prices.
Downloads
Download data is not yet available.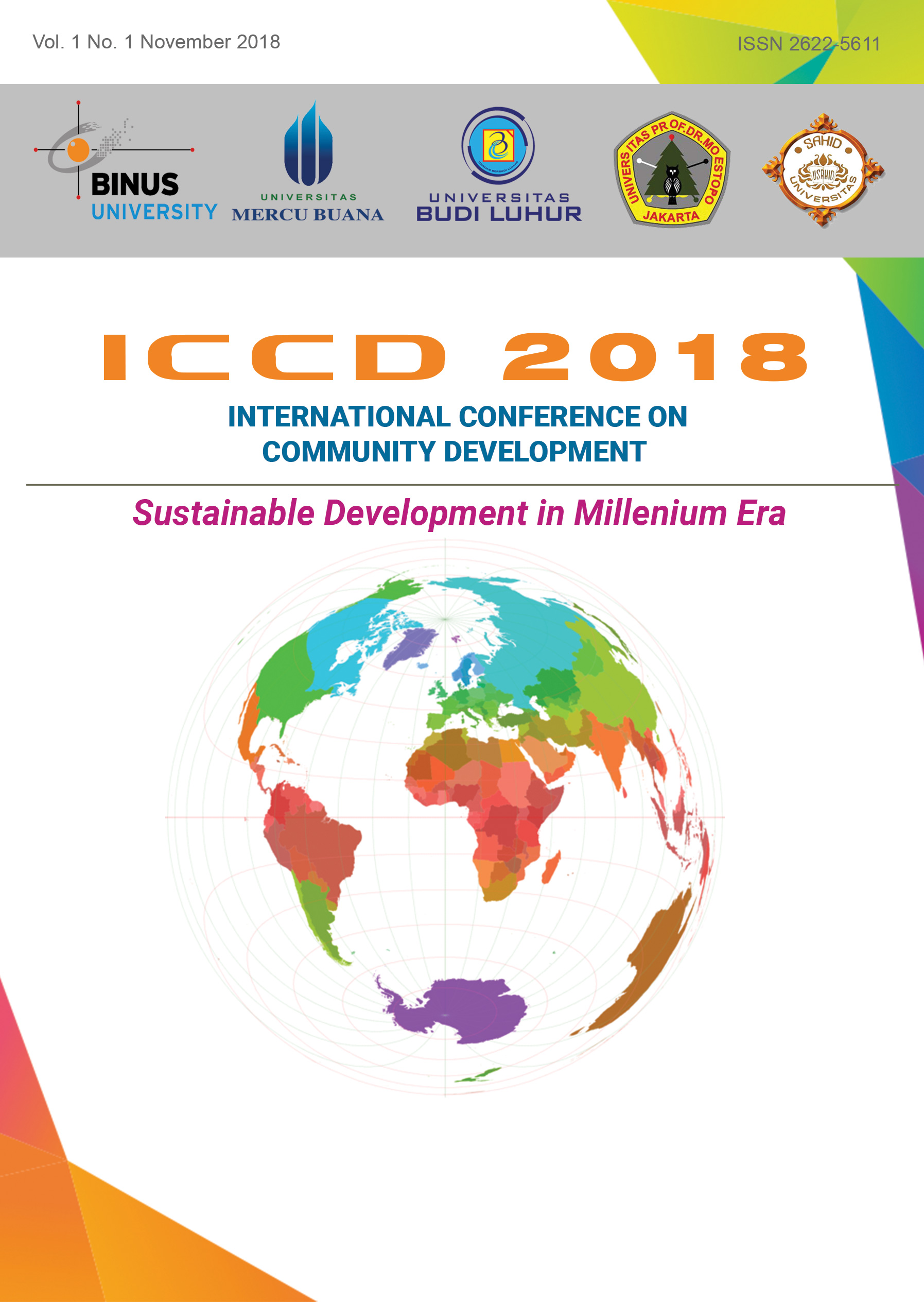 How to Cite
Widaningsih, T. T., Ekayanti, D., & Mulyasantosa, N. (2018). DEVELOPMENT OF STREET VENDOR BUSINESS THROUGH MARKETING COMMUNICATION CAPABILITY IMPROVEMENT IN MENTENG VILLAGE, SOUTH JAKARTA. ICCD, 1(1), 557-562. https://doi.org/10.33068/iccd.Vol1.Iss1.84