TRAINING OF COCONUT BUSINESS STRATEGIES AS MICRO, SMALL BUSINESS, MEDIUM ENTERPRISES IN MERUYA SELATAN VILLAGE
Aty Herawati

Mercu Buana University
Keywords:
business strategies, entrepreneurship, interpesonal communication
Abstract
The development of the industrial sector, whether large, medium, small, micro or home industry, is basically an effort to improve the standard of living and welfare of the people. The development of the industrial sector is an activity directed towards developing the industry by increasing added value and can create jobs for the community. The household industry also requires workers both adults and young people who have skills. Workers in the production process can come from the family, the surrounding community or outside the area. Therefore a strategy is needed that can empower sustainable communities. Efforts to mobilize resources to develop the potential of the community by developing an entrepreneurial spirit. One form of entrepreneurship is the processing of coconut which can be done on a home industry scale in the Kembangan District area, especially in the South Meruya Village. This location has a location adjacent to the coconut producing area in Banten Province. This service has the purpose of conducting entrepreneurial training by raising awareness of the potential that is owned, knowing and knowing how to obtain raw materials, carrying out the production process and marketing of processed products. The number of participants invited as many as 30 people consisting of people in various RTs in various villages in South Meruya District. The method of implementing this activity refers to a sustainable coaching program. through several stages of business training, mentoring, handling and business networks. The results of the training evaluation revealed that participants stated that training was very useful to improve understanding regarding the effectiveness of interpersonal communication in coconut management.
Downloads
Download data is not yet available.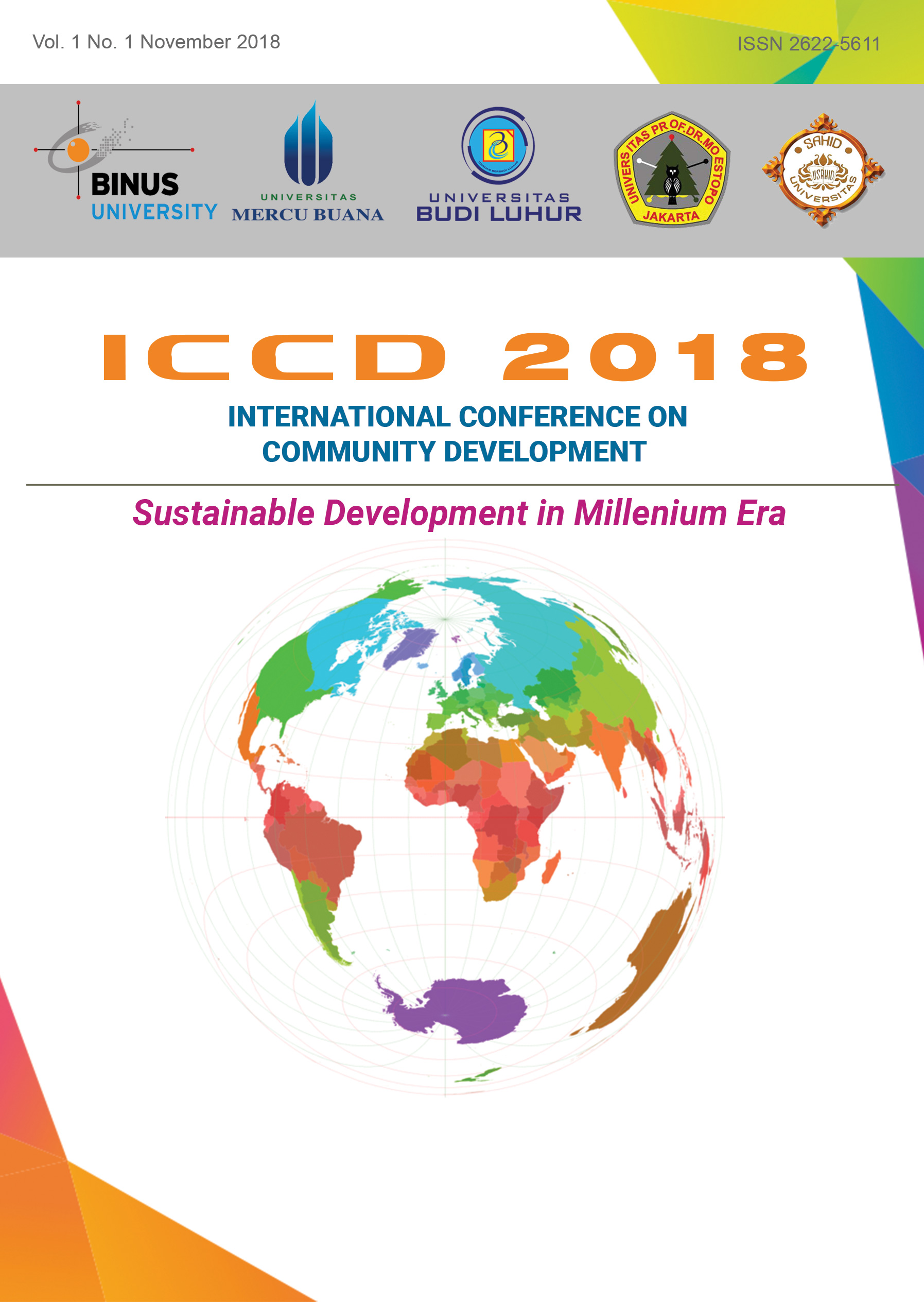 How to Cite
Herawati, A. (2018). TRAINING OF COCONUT BUSINESS STRATEGIES AS MICRO, SMALL BUSINESS, MEDIUM ENTERPRISES IN MERUYA SELATAN VILLAGE. ICCD, 1(1), 408-412. https://doi.org/10.33068/iccd.Vol1.Iss1.57