IMPROVING COMMUNITY READING INTEREST THROUGH THE ESTABLISHMENT OF PUBLIC LIBRARY IN SUSUKAN VILLAGE OF PARAKAN JATI, BOJONGGEDE DISTRICT, BOGOR REGENCY, WEST JAVA
Titin Astuti

Sahid University

Manik Sunuantari

Sahid University
Keywords:
public general, reading interest, rizanmilla
Abstract
This service activity for society with title 'Upgrading reading society's interest with build public library in Susukan Village, District Bojong Gede, Bogor city. Will be held for 10 years by collaborate with two mitra, Karang Taruna Teenager, and women in RT 03 RW 05, Susukan Village. Mitra condition with amount of densely populated environment and middle down economic living, and dont have a public library, made this service as solution. Upgrading teenager karang taruna skill with this service go to make them as a manager and library staff, and then for women go to be a motivator and feedback source for public library development. This public general 'Rizanmila' has no fee (free) for everyone provide a lot of books, not only knowledge (66 books) but also religion book (38 books) and another books (29 books). It makes the total of book is 233 and go to be increase time by time. The attendant is 207 people which is dominate by kids with age range 8 till 15.  Female with education range Junior High School till Senior High School. And the most favourite books is a story book, knowledge based and religion. By this condition we still need a charity a lot of books to prevent boring situation and increase the books variety in this public library. This library existence go to give a good benefit, not only for upgrading society reading interest, but also create an idea and trigger attendant creativity by activity such as culinary business, handicraft and another commercial activity in other to upgrading their business skill.
Downloads
Download data is not yet available.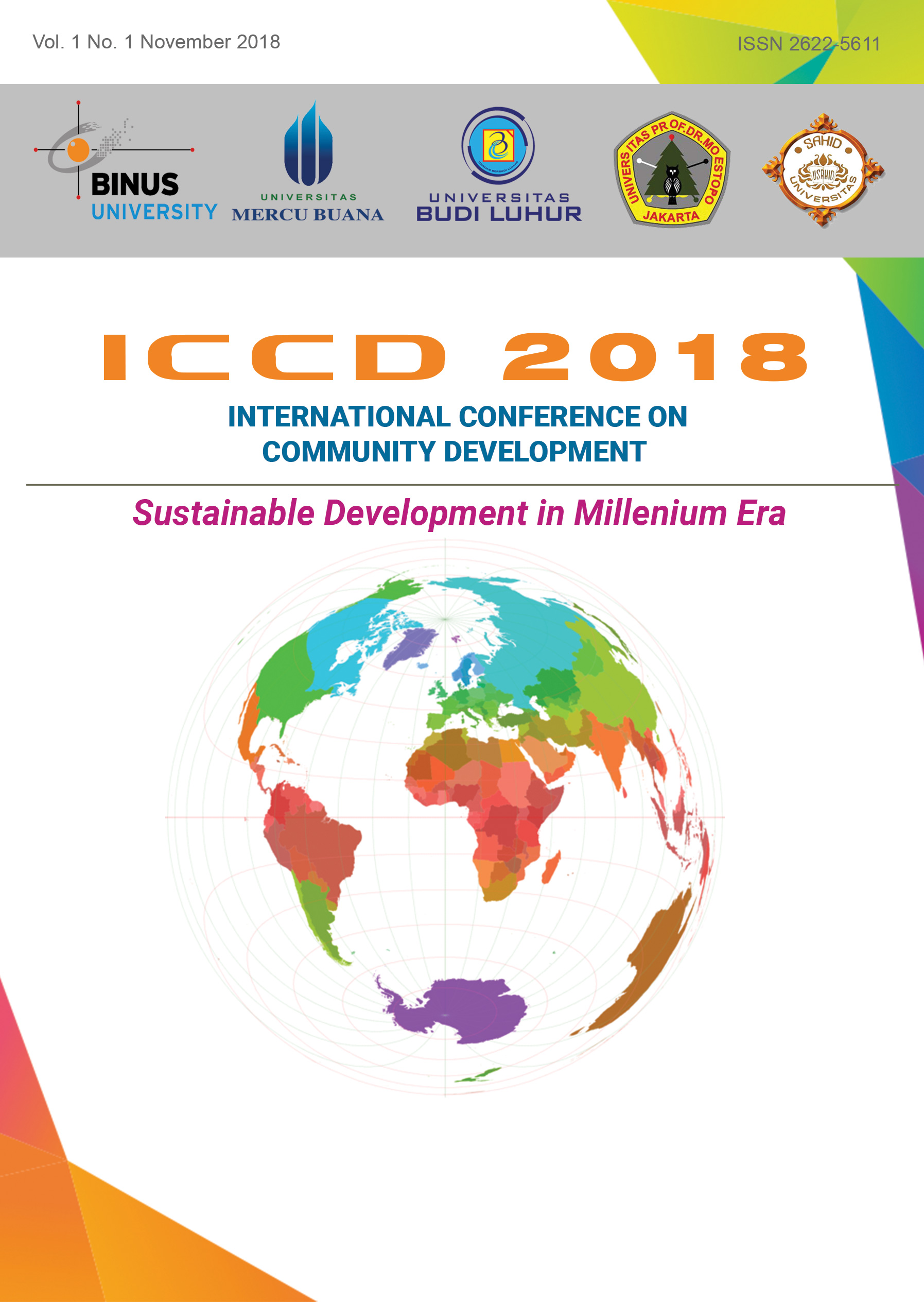 How to Cite
Astuti, T., & Sunuantari, M. (2018). IMPROVING COMMUNITY READING INTEREST THROUGH THE ESTABLISHMENT OF PUBLIC LIBRARY IN SUSUKAN VILLAGE OF PARAKAN JATI, BOJONGGEDE DISTRICT, BOGOR REGENCY, WEST JAVA. ICCD, 1(1), 295-298. https://doi.org/10.33068/iccd.Vol1.Iss1.45