SOCIALIZATION AND MENTORING ON INCREASING DEMOCRACY AWARENESS AND COMMUNITY PARTICIPATION IN THE IMPLEMENTATION OF VILLAGE LAW IN NGADILUWIH VILLAGE, NGADILUWIH SUB-DISTRICT, KEDIRI REGENCY - EAST JAVA
Elis Teti Rusmiati

Prof. Dr. Moestopo (Beragama) University

Andriansyah Andriansyah

Prof. Dr. Moestopo (Beragama) University
Keywords:
village law, village funds, democracy awareness, community participation, program implementation
Abstract
The uproar on Law Number 6 of 2014 on Village (Village Law) is currently more focused on the issues of village funds. Democracy, which is actually the spirit of the Village Law, does not get much attention. The spirit promoted by the Village Law is paving the way for democracy at the village level after in the past, villages were more often positioned as a sub-ordination of development programs. Rural communities need to be given proper understanding of democracy and the courage to participate so that the goals of community empowerment contained in the Village Law are immediately achieved. The method used in this activity consists of several stages: (1) survey; (2) module making; (3) socialization; (4) mentoring; (5) evaluation. Participants in the activity were: village officials, heads of RT and RW, village heads and community leaders. The results of the activity indicated that after socialization and mentoring: (1) the knowledge and awareness of participants regarding democratic rights, especially those related to the Village Law, increases; (2) Participants have the courage and the skills to convey their aspirations in each discussion forum in the village; (3) The Village Development Work Plan (RKPDes) proposed as a condition for the Village Funds, was made entirely involving community participation so that the programs were expected to be more in line with the needs of the village community, because they were captured from the aspirations of the community.
Downloads
Download data is not yet available.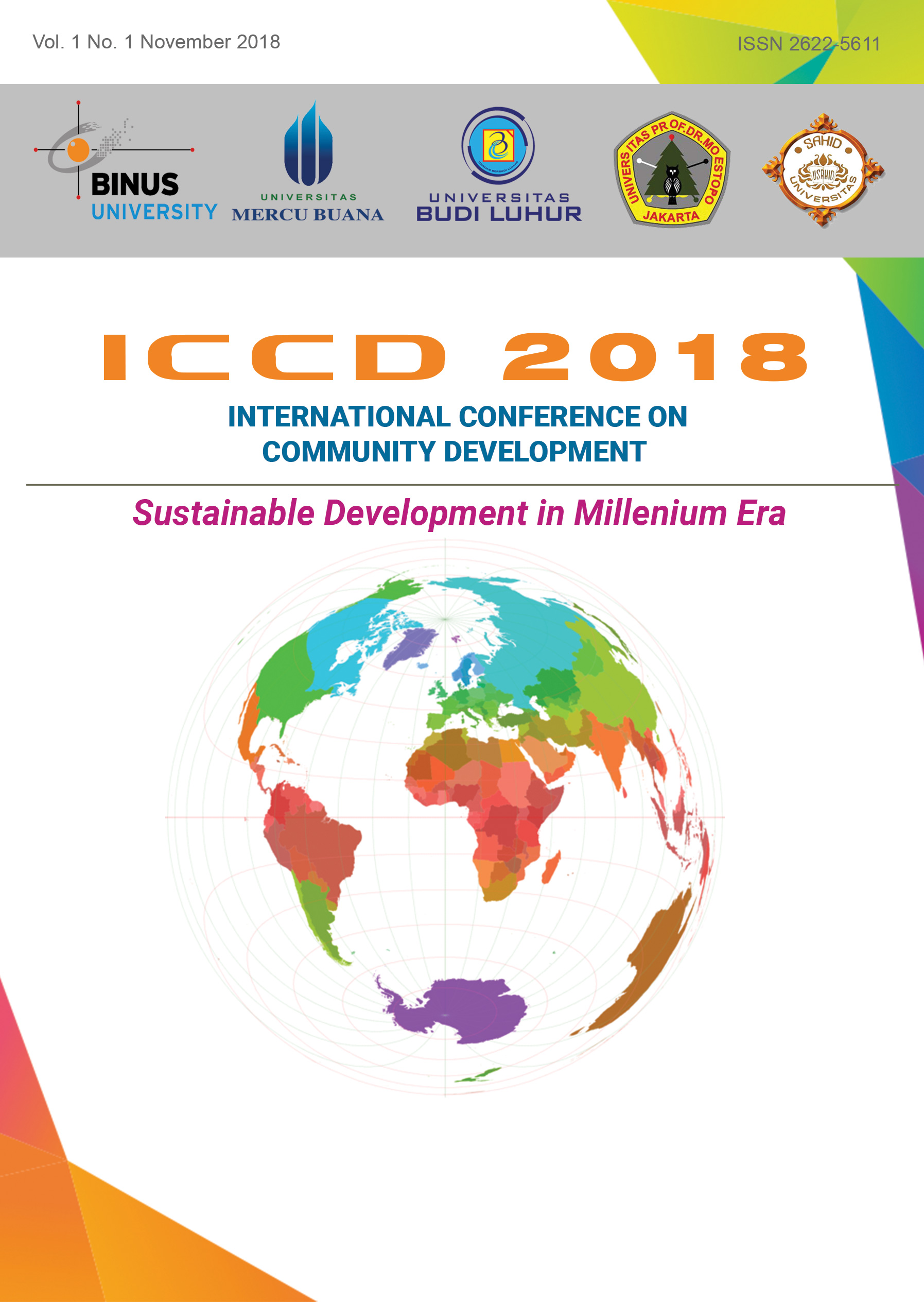 How to Cite
Rusmiati, E. T., & Andriansyah, A. (2018). SOCIALIZATION AND MENTORING ON INCREASING DEMOCRACY AWARENESS AND COMMUNITY PARTICIPATION IN THE IMPLEMENTATION OF VILLAGE LAW IN NGADILUWIH VILLAGE, NGADILUWIH SUB-DISTRICT, KEDIRI REGENCY - EAST JAVA. ICCD, 1(1), 101-105. https://doi.org/10.33068/iccd.Vol1.Iss1.15